What every fleet manager needs to know – in a few coloured squares.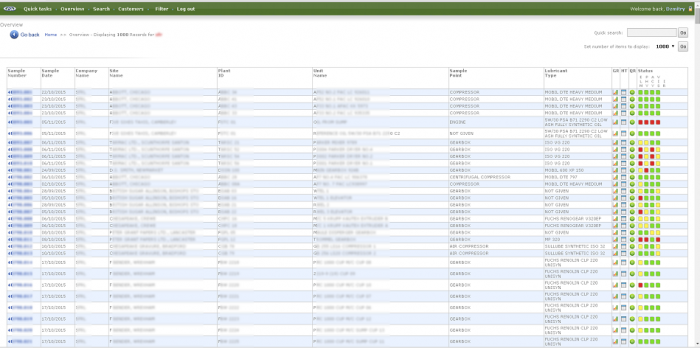 With our oil analysis web portal you can have an immediate overview of your fleet's condition. You can see state of the last sample and when it was taken for every asset. You can trend oil analysis histories, spot patterns which lead to failure and eliminate them. Devise a tailored solution for each operational environment based on the data we give you. Keep your fleet moving and save money doing it.
If your fleet is serviced by a dealer or a third party maintenance provider you can ensure that the servicing and oil changes are carried out as agreed and your vehicles can keep on trucking. Disputes about the repair costs can also be avoided if the cause of failure has been identified.
If you maintain your fleet in-house you can use oil analysis to target your servicing to specific vehicles to improve reliability and avoid costly repairs. Save even more by safely extending oil drain intervals where the appropriate. Should a failure occur we can help you determine the cause and protect the rest of your fleet from re-occurrence.
Don't forget to sample fuel, coolant, ad blu, gear and hydraulic oil systems.
Once you are ready to proceed please go to our Welcome page to get started or get in touch.